Trade show booth furniture, back lit counter displays and portable bars
Liquor and Wine Companies
Your booth is the best way to create a good first impression on prospective customers and clients. The DELUX portable bar, complete with your brand on it, will ensure a great first impression. The DELUX stainless steel finish with holographic lighting is guaranteed to impress your potential customers. It is also easier and faster to set up than most stands, and its compact storage mode will help you save on freight costs. Last but far from least, the DELUX will last you a very long time thanks to its high quality materials and construction, providing you with not just a portable bar, but an investment for future trade shows.
Booth Counter and Product Showcase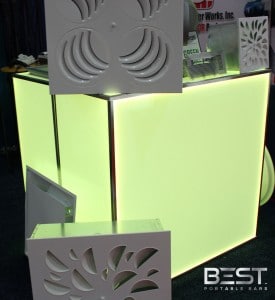 You might want to use the PlexBoX back lit mobile bar as a counter space to attract people with its bright, eye-catching lights, or you might want to use it to display your products. One thing is for sure: the PlexBoX will get people's attention. Depending on the products or services you offer, the extra customers attained from a beautiful, attention-grabbing display could easily cover the investment of PlexBoX.
Not what you were looking for? Click Here for other commercial applications.