Description
DELUX is the ultimate portable bar, ideal for hotels, restaurants, bars, event professionals and luxury homes. The DELUX portable bar is a perfect blend of spectacular, elegant, mobile and functional, without compromise.
Entirely made out of stainless steel to provide great durability and a luxurious, modern and polished look. The DELUX portable bar is very easy to assemble, move and store, and suitable for both indoor and outdoor use.
DELUX portable bars are unique and handcrafted with high standards of quality and perfection.
How to setup the DELUX
Characteristics
Easy 1 minute setup, no tools required
70% space saving in storage/transportation mode
100% stainless steel
Working surfaces (shelves and top), front and side panels made of food grade #304 stainless steel
Three bar top positions allow for joining multiple bars in a long continuous bar, or to setup a single bar flush with a wall
Available with integrated double-layered ice bin keeping ice water-free, or with a standard sink
Amazing 3d holographic lighting effect, remote control of light colors and special effects
Interior workspace has dimmable white LED light (DELUX-RGB only)
Green Product: 99.9% made of recyclable materials and low energy consumption LED lighting
Can be carried through doors, narrow hallways, small elevators and in most cars
Adjustable legs allow for full stability on uneven floors
Lighting system remote control support fixed inside the bar for secure storage
All LED lights: life expectancy of 10,000 hours, low power consumption, can run on a battery
Only high-end materials and electronic components used
Includes heavy duty black vinyl protection pouches for main frame and bar top
Engineered for work efficiency and comfort with optimized dimensions and positioning
Brushed stainless steel can be repaired and damaged parts can be replaced to extend product's life
DELUX is Ideal For
Commercial applications: hotels, bars, restaurants, furniture rental companies
Professional applications: event professionals, mobile bar companies
High-end homes and condos
Indoor and outdoor, use in your home and bring to the pool when required
DELUX is a Must When
An elegant, spectacular, high-end portable bar is required
Storage space is limited
On-site and off-site transportation is involved
Must be carried in narrow hallways, stairs or small elevators
Food-rated stainless steel service area is required
Options
Lighting
No lights
3d holographic LED RGB front lights with remote control and white LED interior lights
Top Shelf (work surface)
Plain shelf, no ice bin nor sink
Shelf with integrated double-layered, waterfree stainless steel ice-bin (recommended for most applications)
Shelf with integrated sink (water evacuation through bottom only, no faucet)
Bottom Shelf
No bottom shelf
With stainless steel bottom shelf for safer storage underneath the bar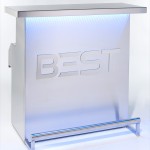 Customize with your logo (price on a quotation basis, may vary between $750 and $1,500)
3d stainless steel letters
Other options available
Dimensions
Bar Top (effective serving space): 46″ x 18″ (117cm x 46cm)
Overall Dimension – Setup: 46″W x 31″D x 44″H (117cm Width x 79cm Depth x 112cm Height)
Overall Dimension – Storage, not in box: 38″W x 11″D x 46″H (96cm Width x 28cm Depth x 117cm Height)
Packaging Dimension: 38″W x 11″D x 46″H (96cm Width x 28cm Depth x 117cm Height)
Total Weight: 116 lbs (53 kg)
Specifications
Literature
Download the Promotional Flyer